The Zoey-Lola Friendship (in fandom known as Zola) is the pairing of Zoey Brooks and Lola Martinez. They have been friends ever since the end of the Season 2 episode, Back to PCA. They are also roommates.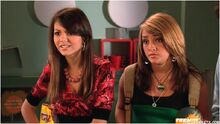 Episodes with a Zola plot/subplot:
Back to PCA - When Lola first comes to PCA, she pretends to be a "freaky weirdo" to scare Zoey and Nicole.
Miss PCA - Zoey and Lola are fighting over Logan's beauty pageant.
Ad blocker interference detected!
Wikia is a free-to-use site that makes money from advertising. We have a modified experience for viewers using ad blockers

Wikia is not accessible if you've made further modifications. Remove the custom ad blocker rule(s) and the page will load as expected.